Vilamoura Traffic restrictions Saturday 3rd August 2013
This Saturday Vilamoura will stage the 1st UNICEF mini marathon in aide of children in need. Full details are available in our specific post. For safety reasons several roads will be closed to traffic completely form 7:30pm to 11:00pm.
Although Inframoura are trying to publicise this as well as possible with the huge increase in traffic on that weekend, the large amount of people who probably won't see the warning coupled with the general public's lack of attention to any instructions while on holiday chaos is to be expected.
As an example if you live on Avenido do Parque you will NOT be able to drive to or from your house between 7:30 pm and 11:00 pm. Add to this the back up that will probably occur from people who are not aware or have ignored the notices and well……
Here are the facts and guidelines as issued by Inframoura:
1.Study very closely the traffic map below.
2.The zones marked red are totally closed off from 7:30pm to 11:00pm. No vehicle traffic is allowed.
Back-up or alternative transport: a tourist 'train' that will travel to allow residents and visitors to enter and leave the red zones.
3.Streets marked green – alternative routes for vehicle traffic.
4.Avenues, streets and pathways where the 1st UNICEF Mini Marathon will take place are marked in blue:
Av. Eng.º J. Meireles (next to the Vilamoura Tennis club),
Av. do Parque
Rua Torre d´água,
Rua das Avelãs,
Rua do Brasil
Rua da Inglaterra
Rua dos EUA
Caminho das Alfarrobeiras
Caminho dos Golfes
INFRAMOURA Suggestions:
•If you are not participating in the UNICEF Marathon, kindly return from the beach or go to the marina by the tourist 'train' that we are making available to you or, alternatively, use the shared use bicycles.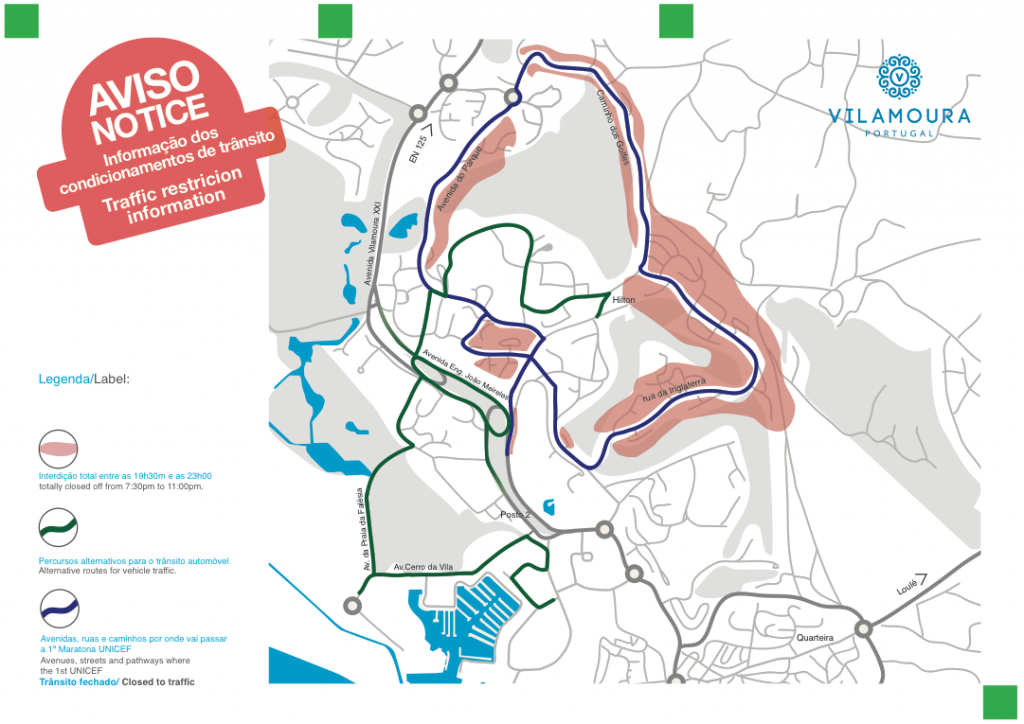 Full details of the event are available on our specific post click here to read
Norton & Mackenzie offer a comprehensive portfolio of property management and quality holiday rentals in Vilamoura – Algarve.


News supplied by