Supermarket Riots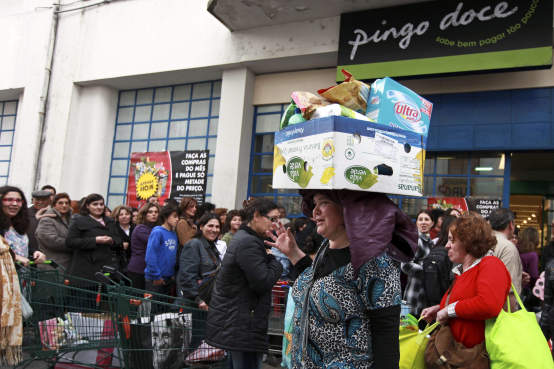 A half-price Labour Day sale at over 350 Pingo Doce supermarkets turned ugly this week as shoppers came to blows and pregnant women were forced to the back of check-out queues while shopping trolleys became a commodity for desperate shoppers. Most stores had to be closed in order to be re-stocked, while police recorded at least 50 incidents throughout the country. An investigation has been called into the initiative, as health and safety authorities look into claims that the campaign could have been an attempt to force smaller rivals out of business and for larger competitors to record unexpected losses by Pingo Doce selling goods at below cost.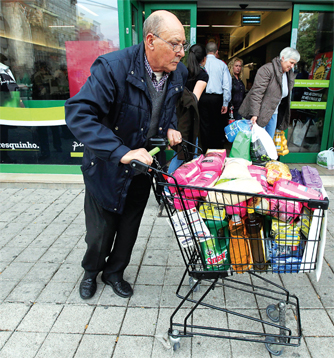 Mayhem ensued as cash-strapped Portuguese consumers swamped supermarkets on Tuesday following news of a last-minute 50 percent discount for expenditure above 100 euros on all products excluding white goods.
Pingo Doce, which has been aggressive in its advertising since its successful re-branding, could not have asked for more effective advertising.
All major television channels opened their prime time news bulletins with news of the sale on Tuesday evening, which followed similar coverage during the lunch-time news programmes, watched by millions more viewers at home due to the 1 May bank holiday.
In the wake of the unprecedented sale, Pingo Doce told shoppers to keep their pennies close, as more was still to come.
The supermarket chain explained that the initiative was "a success" and was just one of many it had planned for the remainder of the year.
A spokesperson explained the objective is to "support Portuguese consumers in the management of their increasingly pressured household budgets."
Mixed reaction followed the one-day sale. While consumers who had received an immediate 50 percent cash-back on their shopping emerged victoriously from supermarkets, opposition politicians and competitors have questioned the legitimacy of the action.
A debate was in Parliament a day after the sale, while health and safety agency ASAE has said it will be investigating claims of 'dumping', which is a form of predatory pricing where goods are sold well below cost with the objective of creating a monopoly by crippling competitors.
Pingo Doce has since denied this claim, saying their aim was to help consumers.
While these charges are extremely serious and could result in hefty penalties for the supermarket chain owned by Jerónimo Martins (one of Portugal's 20 biggest listed companies), consumer watchdog organisation DECO appeared to support the move and even excused some of the primitive behaviour seen by consumers across the country.
"Shoppers reacted as expected. Faced with such a big discount and having to deal with the current financial difficulties, people reacted by going shopping", explained DECO secretary-general Jorge Morgado.
He stressed that the first items to disappear were primary goods, and added that he felt no harm had been done by Pingo Doce.
"This was a marketing act which probably went very well for the company. Everybody has been talking about nothing else except this brand for past couple of days", reasoned the DECO chief.
Information provided by  Brendan de Beer – The Portugal News – our thanks
For help with accommodation in Vilamoura in the Algarve Portugal click this link 
For help with Property Management in Vilamoura in the Algarve Portugal click this link